Our new adventure took me to Poland. Since Poland is a large country and they have a lot of nice things I tried to see how easy it would be to do some business over there. Nothing special, just some spare time hobby style waste of time… the usual :)
Now first things first: Over the last couple of years I tried ordering privately but also for my company different items from Poland. The experience was mixed. I never had trouble getting what I paid for and the quality was also good but some businesses and most private people simply refused to do business if it implied shipping abroad.
Credit card payment was out of the question in the private sector but paypal wasn´t useful either. Not even offering to pay in advance by doing a bank wire transfer would get the people to sell you stuff. I am not kidding. Out of dozens of conversations I had, only one single seller was willing to sell me the item and only on the condition of sending him the money first in his bank account.
I was baffled.
So I started step number two: Investigation and improvement of my ability to close deals.
I also realized when travelling the country that if you don´t have a polish card payment method it is getting expensive and pretty fast. Just as an example: For every time I pay for the toll instead of paying 13 Zloty that is around 3€ I pay 4€ with the fees from my bank.
I go to some takeaway food restaurants, local and international, and you choose your food on that terminal but cannot pay in cash. So you have to order it with someone at the counter who most of the time does not speak English and messes up your order. I am telling you this cashless thing is getting more annoying by the day.
In Austria there is willhaben, in Germany there is ebay-Kleinanzeigen, Ireland has adverts.ie and in the US you have craigslist. Poland has OLX as a similar platform where private people can just sell their stuff they don't need anymore.
There are of course other platforms in Poland that are more business oriented, like Allegro (similar in some ways to Amazon) and others. What the private platforms and also the business platforms have in common is a shocking tailoring towards the polish market. A very large percentage of sellers won´t ship abroad, for any price. And to add insult to injury on OLX there is no option to pay with credit card, or paypal or whatever you can imagine. You can only pay by bank wire transfer FROM A POLISH ACCOUNT ONLY or by Blik. I am not talking about paying the seller directly, which you cannot, but rather you use the payment method of the platform and all they offer is bank wire transfer (polish back account required) or Blik (i will come back to this one later).
This is the point where the plot thickens.  
Blik is sort of instant payment system that 18 Banks in Poland use. It is comparable to Paypal or Revolut in some ways but it is only used in Poland. And the only way to use it is if you have a polish bank account.
So here we go, let´s open a polish bank account from abroad. I literally called all 18 Banks that provided the Blik Service and asked if it was possible. 2 banks I could not get a hold of at all. 1 bank simply refused to talk to me in English, they said they will talk with me only in Polish. And 1 bank had a robot on the line that you had to interact with by speaking the words in polish. Now since I do not speak polish there were 14 banks left. Good odds you think?
ALL 14 banks told me the same: It is not possible to open a bank account from abroad if you are not a polish citizen or a polish resident. So far so bad :) Although 5 banks told me I would only need to drop in to one of their offices in Poland and they would open an account for me as a non-resident.
I then booked a hotel for a night jumped in my car and drove there a week later. The trip was not too bad… 7 hours or so… one way.
When I got there to Krakow I went to the first bank that was closest to the hotel. This was the one that said they will not speak to me unless I speak polish. I wanted to see this in person. They simply refused to talk to me in person as well. Not even an explanation, not even some nice words, nothing. "I wont talk to you!, that's it". All right. Slightly sad but no worries… the next bank was just around the corner. And this was one of the five banks that told me I just needed to drop by. Went there and asked about an account, and they refused to open an account for me. They said they will not open an account unless I am a resident. Strange, because I called beforehand and they said on the phone to just drop by. Did not think much of it since I still had 4 banks that told me to come by and they will open an account for me.
Went to the next bank that was like 10 minutes away and something happened that was out of this world to me. I told them what I needed and they did not refuse me outright but they said that they needed MORE THAN ONE proof of identity from me and that it would take about two weeks to process and after that I needed to come back again. Now I was curious. I have a passport, isn't that good enough? NO! We need one more. All right, I have my drivers license. That is not good either. How about my e-card (social security card with a picture of me on it)? No. How about my birth certificate, which I also had with me? Nope! You need a Personal ID with picture and a Passport, otherwise we cannot confirm it´s you. Mind blown.
Now it was already like 1 pm. And I spent like half a day going from bank to bank and slowly the thought occurred to me that I made the trip in wain. I was getting frustrated. I went to yet another bank that told me on the phone to just drop by. And they told me I needed a PESEL number (which if I understood correctly is a number you get when you become a resident) to open an account with them. I asked where I could get that and why oh why did no one bother to mention any of this to me when I called beforehand. They apologized for the inconvenience and sent me off to some government building to get that PESEL number.
If you paid close attention you will have noticed that I already went to most of the banks that told me to just come by so I was slightly losing my patience.
You guessed it, you can´t have a PESEL number if you are not or if you do not want to become a resident. And you cannot become a resident if you don't live there in like a flat or a house or something. So the banks won´t open an account for me if I don't have a PESEL number and they won´t give me a PESEL number as a non-resident.
I was annoyed at this situation. I just wanted to spend some money more conveniently and they won´t let me.
Don't get me started at the fact that you OF COURSE need a polish phone number to be able to have a polish account, which I also didn´t have.
Long story short: I found a bank who helped me set up an account but I am not going to say how long it took me and how many hoops I had to jump through.
It is really difficult as a non-resident to get a PESEL number at it takes many weeks and it is like you asked for a kidney.
Oh yes and it was one of the banks I could not get a hold off on the phone in the beginning that made it possible to get an account. And in hindsight I might now why they did not answer the phone: because they were busy helping customers.
You know what all the banks that would not help me had in common? They were all mostly empty. The one bank that helped us was the only bank where I had to get in line to open my account, where I had to get in line to pay money into my account and where there were generally a lot of clients.
 But let me tell you this in the end I am still annoyed at you NestBank, ING Bank, mBANK, BOS Bank, … that I made a 1400km trip for nothing. You can sod off!
And who in their right mind would need more than one ID and not that ID but that ID and not that ID. Now you need two very specific IDs and what next? Three IDs? If you cannot produce Passport, Holy grail Membership Card and Dental exam papers that show the teeth belong to you then it is not you? You can sod off too!
In Germany, Austria and other countries as well you can open an account from abroad with many banks. There are so called ID calls where they look at your papers and what not. Because it is the same thing when you meet in person. They look at your papers and just write down what they see. Now I don't expect that to be possible everywhere but since I am present there, it should be at least possible.
Nevertheless…
It took a while to open the account but all went well and I am now proud to have a polish account. And I can finally use Blik! Yippie!
Now it´s down to figuring out a way to get people to write my address abroad on the packages when I order something. I hope I can move their hearts and they will write an abroad address on them. For now I must rely on an acquaintance who is forwarding my packages to me. But still at least I am a step further than before.
Maybe one day I will tell this story to my children and grandchildren and they will laugh at me just like it is barely imaginable nowadays to not have internet connection. Who knows?! :)
Verpackungsverordnung 2023
Die Eckdaten für Sie als Online-/Versandhändler zusammengefasst:
- Ausländische Versandhändler, ohne österreichsiche Niederlassung, benötigen
- ab 1. Januar 2023 einen in Österreich ansäßigen
- Bevollmächtigten Vertreter für Verpackungen (Sie dürfen die Pflichterfüllung dann nicht mehr selbst übernehmen), wenn
- sie unmittelbar an private Endverbraucher in Österreich liefern.
- Es ist gesetzlich leider keine Ausnahme für Kleinstmengen vorgesehen, wir können jedoch für Kleinbetriebe oder für Betriebe mit geringem Paketaufkommen günstige Pauschalen anbieten.
Sollten Sie weitere Informationen, eine Beratung oder einen Bevollmächtigten benötigen, können Sie uns gerne kontaktieren.
Schlüsselbegriffe: VVO ARA Novelle 2023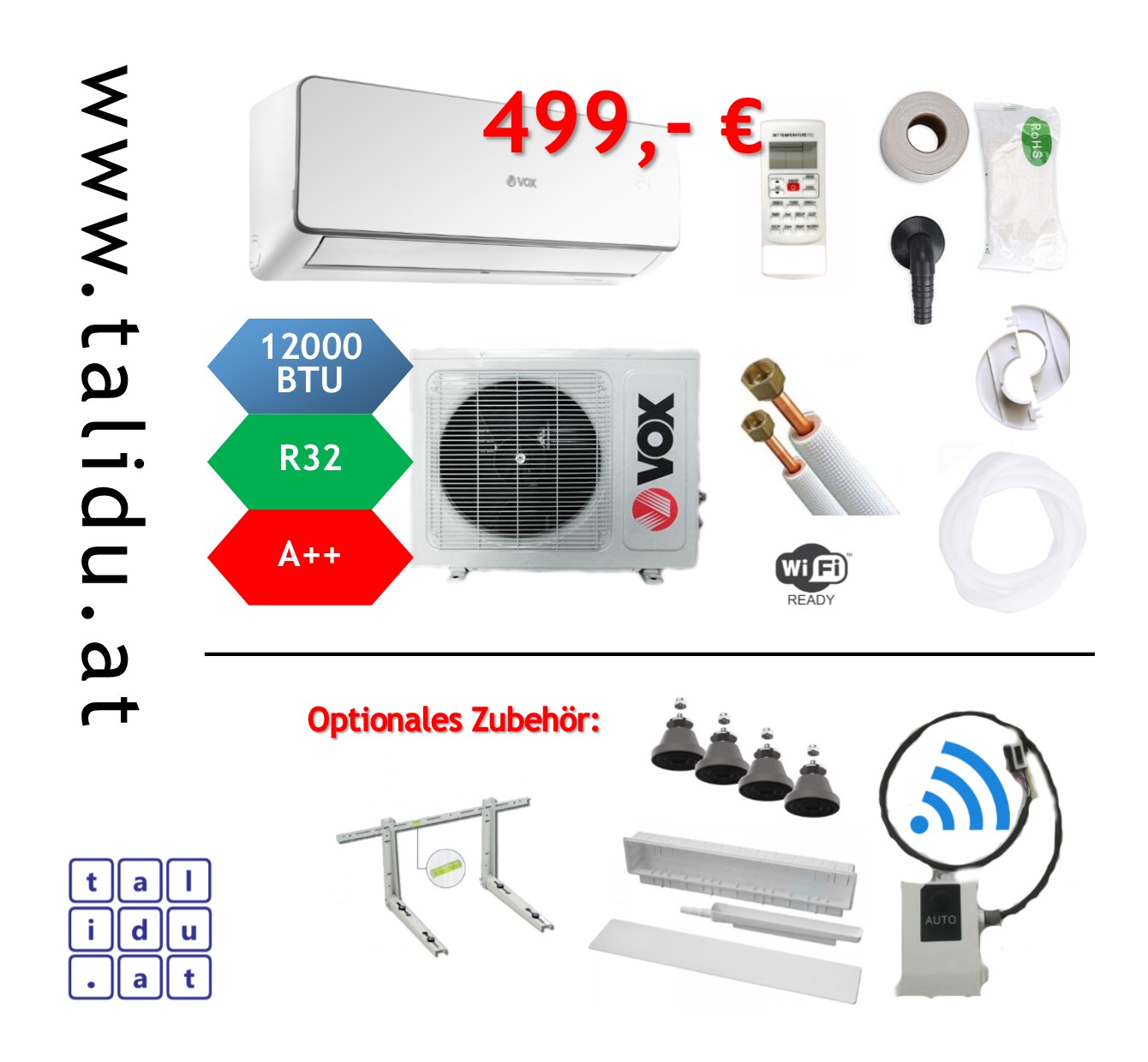 Im Preis inkludiert: 
- Inneneinheit inkl. Halterung
- Außeneinheit inkl. ausreichend R32 Gas für eine Rohrlänge bis 5m
- Fernbedienung inkl. Batterien
- Isoliermasse, Kunststoffband, Rohrschutzring, Abflussstutzen für Außeneinheit
- Kondenswasserschlauch 2m (optional länger erhältlich)
- Isolierte Kupferrohre (1/4" und 3/8") inkl. selbstverschließenden Verbindungsmuttern (3m fixe Länge oder gratis Zuschnitt für kürzere Länge bzw. optional auch länger)
Optional erhältlich:
- WLAN Modul (30€)
- Stromkabel
- Wandhalterung für Wandmontage (30€)
- Antivibrationsfüße für Bodenmontage (30€)
- Unterputzdose für Inneneinheit (20€)
- Montagematerial (Schrauben, Dübel), Schaumdichtband
- Drehmomentschlüssel (zum Ausleihen)
- Vakuumpumpe inkl. Öl (zum Ausleihen)
| Characteristics | Value |
| --- | --- |
|   |   |
| Type | Inverter split system |
| Heating capacity | 3500 W |
| Cooling capacity | 3500 W |
| Nominal Capacity | 12000 BTU |
| Power consumption in heating | 970 W |
| Power consumption in cooling | 1090 W |
| Air flow (closed) (m3/h) | 560m3/h |
| Anti-fungus | Yes |
| Gas type | R32 |
| Indoor unit gross weight | 9 kg |
| Outdoor unit gross weight | 29 kg |
| Auto restart | Yes |
| I Feel | Yes |
| Additional benefits | Auto restart, I Feel, Anti-fungus, Wi-Fi Ready, Deep sleep, Cooling, Heating, LCD Display, Automatic cleaning |
| Technologies | Automatic cleaning (self-cleaning), Deep sleep, Inverter, Wi-Fi Ready |
| Energy class | A++/A+ |
| Indoor unit noise level | 53 dB |
| Outdoor unit noise level | 59 dB |
| Warranty | 2 Years (5 Years with producer) |
| Color | White |
| Indoor unit dimensions (WxHxD) | 750x285x200 mm |
| Outdoor unit dimensions (WxHxD) | 730x545x285 mm |
| Indoor unit packaging dimensions (WxHxD) | 800x345x265 mm |
| Outdoor unit packaging dimensions (WxHxD) | 850x620x370 mm |
| Indoor unit net weight | 8 kg |
| Outdoor unit net weight | 25 kg |
| Model | Air Conditioner IVA1-12IR |
| Homepage | https://www.voxelectronics.com/en/inverter-split-sistem-air-conditioners/485-air-conditioner-iva1-12ir |